Kevin Winkler
Senior Pastor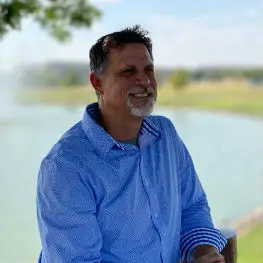 Kevin Winkler was born in Austin, Texas and moved around with his family from California to the Texas coast and several towns in between through most of his early years. He was saved as a child and was around the church as a child, but through his teen years and early 20's was living away from God. "I never hated God, but I was not living for Him either." In his late 20ies the Lord's mercy and His pursuit brought me back. The Lord lead me to a life giving church, planted me there and I began to grow. That's one of the reasons Pastor Kevin is so focused on getting people planted. "I really did not start my upward trend until I was connected to a local church.
Pastor Kevin has been married to his wonderful and lovely wife Misty for over ten years. Kevin and Misty have a wonderful and blessed daughter.
Kevin Winkler, a native-born Texan, has been involved with ministry related service for many, many years now. He had been in full time ministry for 9 years, having served at two different churches. Pastor Kevin and Misty, founded Church Alive in 2009.
Having the hands-on experience serving in the ministry, first as a volunteer and then as paid pastoral staff, has helped him develop strong foundations. This is also coupled with being allowed to sit under the anointed leadership of some great men.
Pastor Kevin has a heart to see people be transformed into the "real deal." We are not interested in play church, but being the church and really loving our Jesus.
Kevin was enrolled in Global School of Ministry and has completed work in Doctrinal and Biblical Studies.